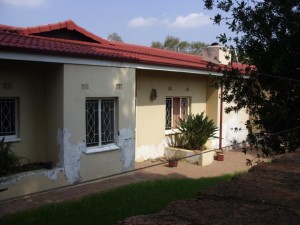 How often you need to repaint your house depends on the current painting status, the area in which you live and the material of the house and building. There are obvious signs and factors to show you that your walls and roof need to be repainted. Different surface materials require a determined set time before they need to repainted.
Brick – if the brick in not painted, it requires occasional cleaning. Water from gutters and downpipes or splashing and damp can cause moss build-up and even mould which can be removed with a power hose or Jik which kills the growth.
Painted brick should last 15-20 years if the painting job has been done properly before repainting.
Plastered walls – Most houses today are plastered and painted, and need to be repainted/touched up between 5 -10 years. Repainting needs to include repair of the cracks, removal of mould, dirt and possible fixing or the drainpipes to prevent the cracks and problems from showing again almost immediately.
Woodwork – depending on the sun's exposure, a maintenance coat is required every 12-18 months. Woodwork that is directly in the sun for a large portion of the day will dry out and crack more easily, needing treatment to protect against sun exposure. Woodwork which is in contact with damp and rain will swell and warp without correct treatment, causing a lot of frustration to the owner when the items do not close/open.
Fibre cement boards – needs less touch ups, this material can last for 10-15 years before repainting.
Roof painting - depending on your roof, sealing and repainting needs to be done every 5 years.
Factors influencing how often you need to repaint your house:
Cheap paint – cheap paint is not of high quality and does not last long (has a lifespan of 3-4 years), so you will have to repaint multiple times compared to using good and high quality paints. Problems with cheap paints is that they has less binder, that can't withstand the UV rays breakdown and degrade of chemical compounds found in the paint.
Elements – depending on where you live, the weather, dry rot, mould and wet rot can affect the lifespan of a paint job. Direct sunlight without trees for shelter can cause the paint to start bubbling and fading more quickly. Rain, high humidity and intense storms cause the paint job to age quickly. Moisture causes the paint to peel and crack, waterproofing is required to resolve this problem.
Ineffective preparation – Not cleaning properly, sealing areas of higher risk, correct coating of the area can all lead to a short term fix-up. Mould, cracks and watermarks are not easily gotten rid of and short cuts will cause long term problems.
Preparation and maintenance of your house or building
It is best to regularly check for signs of wear and tear, specifically for damp, mould, rot, chalkiness and rodents or insects. General maintenance and ensuring that damages are fixed quickly so the paint last longer.
If dirt from the walls has been thoroughly cleaned, the paint will last longer, repainting on dirty walls will make the walls look grubby. Using the proper preparation process will ensure that the paints bonds to prevent it from peeling off.
Quality paint products to use
Using quality paint products such as Plascon paint and Duram allows you to protect your house walls from UV rays, water penetration, mould, stains, dirt, degradation of bricks and plaster. Therefore it is best to paint your house so it is protected.
Painting the exterior of your house or building is a big and time consuming job. Therefore it is recommended to hire a qualified painting contractor for the job to be done correctly. If it's time for a repainting job, feel free to contact us for a free quote.
Why use a professional to repaint your house?
They can identify the problem areas and are experienced in fixing them up. Professional painting contractors are also up to date with which paint to use and have experience in preparing and painting for different circumstances for different houses and in all the hard to reach areas.
Professional paint contractors have the capacity to handle the paint work
Professional paint contractors handle the related issues for you and understand how to solve the paint related problems.
Refresh Coatings is a professional painting contractor with staff who have been with the company a long time, and who deliver a quality paint job.
For a quote to repaint your house, please contact us.