Refresh Coatings is a painting contractor to recoat metal roofs in a cost effective way. If you would like an obligation free quote, please contact us.
By painting and sealing you metal roof, you can increase the lifespan of the roof and the resale value improving the overall appearance with quality workmanship.
Contact us, if you have a tiled roof that needs painting, click here.
Metal roof coating
Below is the basic outline of the process we use to re-coat your metal roof:
High pressure hydro wash roof thoroughly to remove any loose paint, bird droppings and any other dirt.
It may be necessary to use a grinder with a wire cup brush to remove rust and stubborn paint from the metal roof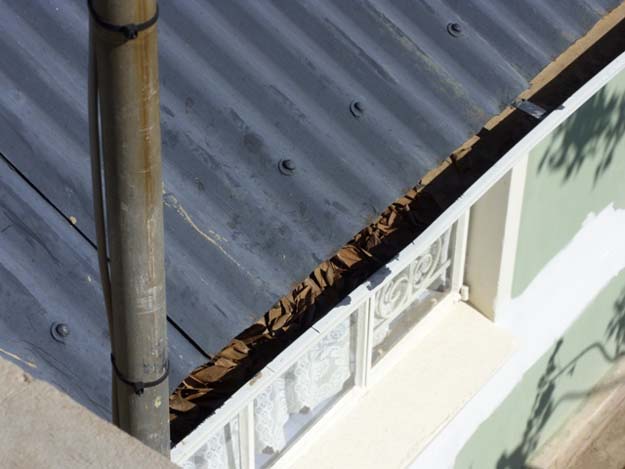 Gutters to be cleaned of all loose paint, leaves, etc.
All roof screws are inspected. Loose roof screws on a metal roof are a common cause of roof leaks.
Where necessary loose are replaced with new screws
Once all loose roof screws have been replaced, each roof screw is sealed with a latex compound
All ridge joints are to be sealed with a latex compound or a fibreglass membrane, depending on the circumstances.
Where necessary roof sheets may have to be pop riveted together
All Valleys are inspected and cleaned out. Blocked valleys are a common cause of roof leaks.
All flashings and protrusions are to be inspected and cleaned and if necessary sealed with either a latex compound or a fibreglass membrane. These loose and unsealed flashings are a common cause of roof leaks.
All rusted areas must be cleaned and treated with a rust converter.
The roof is then treated with a red oxide primer, where necessary.
NB: No red oxide is applied to a new bare metal roof as the natural oil present on the metal can cause an unpleasant chemical reaction when mixed with red oxide. The alternative process is to mix calcium plumbate (rust converter) in the first coat of the paint to be applied. After the completion of all preparations metals roofs (may be) sprayed with an airless spraying machine for faster results. However it is recommended to apply the 2 coats by brush for better thickness. The latter process is usually the one employed by Refresh Coatings.
In Some cases the roof we are treating is in a very bad condition, with very uneven surfaces, thick old paint, etc. In these cases the foreman on site may decide to rather brush on the coating, this helps when you are trying to hide a change in thickness.
The final product after second coat of Acrylic roof coating has been applied.